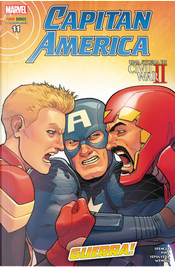 Capitan America n. 81
Guerra!
Translated by
Pier Paolo Ronchetti
,
Illustrated or Penciled by
Juanan Ramirez
,
Javier Pina
,
Miguel Sepulveda
,
Colorist
Jesus Aburtov
,
Rachelle Rosenberg
,
Jacket design or artwork by
Aaron Kuder
,
Tamra Bonvillain
,
Calligrapher
Barbara Stavel
0Reviews0Quotations0Notes
Description
Contiene: Captain America: Steve Rogers #4, A Year of Marvels: The Unstoppable #1(II).

Capitan Marvel contro Iron Man: fra i due litiganti, il terzo... muore?
• Capitan America tenta di negoziare una tregua!
• In appendice: ritorna Bucky Barnes, l'inarrestabile Winter Soldier!