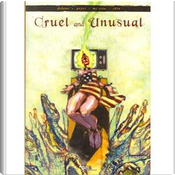 Cruel and Unusual
Translated by
Giovanni Vito Distefano
,
Cesare Giombetti
,
Illustrated or Penciled by
John McCrea
,
Artist or Inker
Andrew Chiu
,
Jacket design or artwork by
Davide De Cubellis
0Reviews0Quotations0Notes
Description
Cruel and Unusual è un'opera originariamente presentata dalla casa editrice DC/Vertigo nel 1999 in quattro albi mensili, qui raccolti in volume, che analizza la possibilità della spettacolarizzazione della pena di morte. La sceneggiatura è dell'inglese Jamie Delano, noto ai più per essere stato il primo sceneggiatore della serie Hellblazer e uno degli artefici dello stile "adulto" classico della Vertigo e dello statunitense Tom Peyer , autore dei testi di serie come Hourman o New Gods e editor Vertigo. La realizzazione grafica è invece affidata John McCrea (Hitman, Mars Attacks!, Dicks, Spider-Man), col contributo delle chine di Adrew Chiu. La copertina è stata realizzata, appositamente per l'edizione italiana, da Davide De Cubellis (John Doe, Martin Mystère, Dylan Dog). Cruel and Unusual, secondo numero della collana V!S!ON! e il secondo capitolo del sodalizio fra Jamie Delano e Green Comm Services. La tiratura di Cruel and Unusual è di 999 copie numerate.