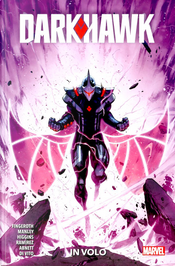 Darkhawk
In volo
by Dan Abnett, Danny Fingeroth, Kyle Higgins
Translated by
Giuseppe Guidi
,
Illustrated or Penciled by
Andrea Di Vito
,
Mike Manley
,
Juanan Ramirez
,
Designer
Pepe Larraz
,
Artist or Inker
Le Beu Underwood
,
Colorist
Chris Sotomayor
,
Erick Arciniega
,
Sebastian Cheng
0Reviews0Quotations0Notes
Description
Contiene:
Darkhawk: Heart of the Hawk (2021) #1, Darkhawk (2021) #1/5

Un volume che celebra il trentennale di Darkhawk, con le sue storie passate, presenti e future!
• Danny Fingeroth e Mike Manley riprendono il loro eroe urbano che viene dallo spazio!
• Debutta qui Connor Young, il nuovo Darkhawk, in una saga che ha già fatto parlare di sé!
• Ospite speciale: un certo amichevole Spider-Man di Brooklyn!