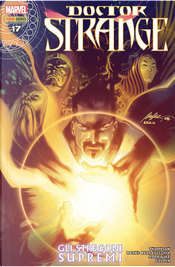 Doctor Strange #17
Gli stregoni supremi
by Robbie Thompson, Roger SternTranslated by Giuseppe Guidi, Illustrated or Penciled by Michael Golden, Javier Rodriguez, Jonathan Marks Barravecchia, Adapted by Luca Scatasta, Artist or Inker Jonathan Marks Barravecchia, Alvaro Lopez, P. Craig Russell, Colorist Jordie Bellaire, Lee Loughridge, Michael Golden, Jacket design or artwork by John Rauch, Rafael Albuquerque, Calligrapher Elleti
0Reviews0Quotations0Notes
Description
Contiene: Doctor Strange (2015) Annual # 1, Doctor Strange and the Sorcerers Supreme #1, Doctor Strange (1974) #46.

Terminata la minisaga Sangue nell'etere, per Strange è tempo di incontrare altri stregoni supremi e nuove minacce da altre dimensioni!
• Arriva in Italia il secondo e nuovissimo serial americano del Dr. Strange!
• Una nuova minisaga e un ottimo "starting point" per i neofiti!
• In appendice, una breve storia d'archivio firmata Mike Golden!