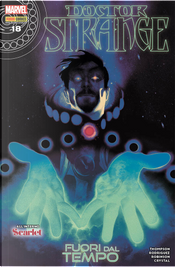 Doctor Strange #18
Fuori dal tempo
by James Robinson, Robbie ThompsonTranslated by Giuseppe Guidi, Illustrated or Penciled by Shawn Crystal, Javier Rodriguez, Adapted by Luca Scatasta, Artist or Inker Shawn Crystal, Alvaro Lopez, Colorist Jordie Bellaire, Chris Brunner, Jacket design or artwork by Frazer Irving, Calligrapher Elleti
0Reviews0Quotations0Notes
Description
Contiene: Doctor Strange and the Sorcerers Supreme #2, Scarlet Witch (2016) #14.

Chi è il Dimenticato? E perché tutti gli stregoni supremi del Multiverso Marvel devono riunirsi per tentare di fermarlo?
• E chi sono questi Stregoni Supremi? Uno è il Doctor Strange, ovvio!
• Secondo capitolo di una nuova minisaga del sovrannaturale Marvel!
• Inoltre… il gran finale della lunga ricerca di Scarlet!