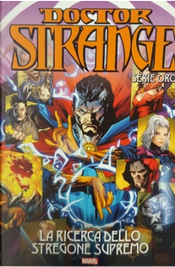 Doctor Strange: Serie oro vol. 20
La ricerca dello Stregone Supremo
by Bill Roseman, Brian Michael Bendis, Jim Starlin, Mike GoldenTranslated by Giuseppe Guidi, Giorgio Lavagna, Claudia Baglini, Illustrated or Penciled by John McCrea, Billy Tan, Chris Bachalo, Dennis Calero, Series curated by Massimiliano Brighel, Nicola Peruzzi, Artist or Inker Batt, John Beatty, Tim Townsend, Matt Banning, Al Milgrom, Colorist Justin Ponsor, Chris Dickey, Antonio Fabela, Calligrapher Barbara Stavel, RAM
0Reviews0Quotations0Notes
Description
Contiene: "La Ricerca dello Stregone Supremo" [Parti #1-4] da New Avengers #51-54; "Hai Maledettamente Ragione" [You Damn Right] da Marvel Knights Millennial Visions; "La Macchina del Tempo" [Time Machine] da Marvel Vision #8; "Strani Riflessi" [Strange Reflections] da Marvel: Shadows and Light; "Dr. Strange" da Shadows and Light #2.
Torniamo a tempi più recenti e ai Nuovi Avengers! Per sconfiggere il malvagio Hood, Strange ha perso gran parte dei suoi poteri, ed ora è alla ricerca di un successore nel ruolo di Stregone Supremo.
Bonus: una sezione di rare storie in bianco e nero.