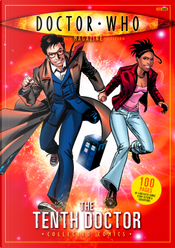 Doctor Who Magazine - Special Edition n. 19 by Dan McDaid, John Ross, Jonathan Morris, Martin Geraghty, Mike Collins, Rob Davis, Roger Langridge
Doctor Who Magazine - Special Edition n. 19
The Tenth Doctor Collected Comics
by Dan McDaid, John Ross, Jonathan Morris, Martin Geraghty, Mike Collins, Rob Davis, Roger Langridge
Curated by
Clayton Hickman
0Reviews0Quotations0Notes
Description
The Doctor and Martha attempt to save the doomed planet of Loam from destruction at the hands of gigantic monsters, then split up for a crazy adventure spanning Mars and an ordinary London bus! Then it's off to meet legendary explorer Ernest Shackleton in the icy wastes of the Antarctic, before visiting an abandoned space base where a deadly plot is afoot.

Packed with 100 pages of thrills, scares and laughs, this Doctor Who Magazine Special Edition collects together four full-colour comic strip stories: THE WOMAN WHO SOLD THE WORLD, BUS STOP, THE FIRST and DEATH TO THE DOCTOR!

Featuring the writing talents of Rob Davis, Dan McDaid and Jonathan Morris, plus stunning artwork from Mike Collins (2000 AD), John Ross (Doctor Who Adventures), Martin Geraghty and Roger Langridge (The Fin Fang Four)!