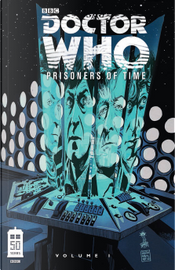 Doctor Who: Prisoners of Time, Vol. 2
Illustrated or Penciled by
Kev Hopgood
,
John Ridgway
,
Philip Bond
,
Roger Langridge
,
Colorist
Charlie Kirchoff
0Reviews0Quotations0Notes
Description
Collects Doctor Who: Prisoners of Time #5-8
Doctor Who's 50th anniversary celebration continues in Prisoners Of Time, Vol. 2. The 5th through 8th Doctors get a turn from writers Scott & David Tipton and artists Philip Bond, John Ridgway, Kev Hopgood and Roger Langridge.