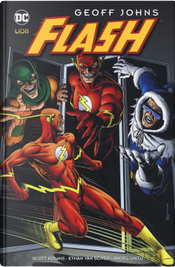 Flash. Vol. 1
by Geoff Johns
Translated by
Paolo Faresi
,
Illustrated or Penciled by
Tom McCraw
,
Prentis Rollins
,
Scott Kolins
,
James Sinclair
,
Angel Unzueta
,
Chris Chuckry
,
Ethan Van Sciver
,
Doug Hazlewood
,
Contributions by
Giovanni Spadaro
0Reviews0Quotations0Notes
Description
Quando Flash rompe il muro dello spazio-tempo, si ritrova intrappolato in una dimensione parallela dove non è mai esistito. Comincia così la storica gestione di Flash di Geoff Johns, in un mondo lontano e totalmente avverso a chiunque indossi una maschera da supereroe, dove la Forza della Velocità non è mai esistita e il Velocista Scarlatto è costretto a fidarsi delle ultime persone rimaste che gli credono... i suoi nemici! Questo volume contiene, The Flash #164-176 e The Flash: Iron Heights, scritti da Geoff Johns e con i disegni di Angel Unzueta, Scott Kolins e Ethan Van Sciver.