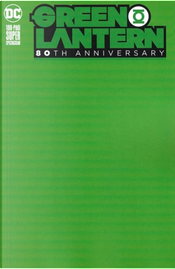 Green Lantern 80th Anniversary 100-Page Super Spectacular by Charlotte McDuffie, ChrisCross, Cullen Bunn, Dennis O'Neil, Geoff Johns, James Tynion IV, Mariko Tamaki, Peter J. Tomasi, Robert Venditti, Ron Marz, Sina Grace
Green Lantern 80th Anniversary 100-Page Super Spectacular
by Charlotte McDuffie, ChrisCross, Cullen Bunn, Dennis O'Neil, Geoff Johns, James Tynion IV, Mariko Tamaki, Peter J. Tomasi, Robert Venditti, Ron Marz, Sina Grace
Illustrated or Penciled by
Fernando Pasarin
,
ChrisCross
,
Rafa Sandoval
,
Oclair Albert
,
Ivan Reis
,
Wade von Grawbadger
,
Doug Mahnke
,
Darryl Banks
,
Jordi Tarragona
,
Gary Frank
,
Mirka Andolfo
,
Mike Grell
,
Ramon Villalobos
0Reviews0Quotations0Notes
Description
It comes with different cover variants.
Blank Sketch - In brightest day, in blackest night, no evil could ever escape their sight! The Green Lanterns are celebrating 80 years of keeping the DC Universe safe. Join us to see tales of all of the universe's most legendary Green Lanterns: Alan Scott, Hal Jordan, John Stewart, Guy Gardner, Kyle Rayner, Jessica Cruz, Simon Baz, and appearances from other cosmic favorites! A legendary lineup of creators including Geoff Johns, Peter J. Tomasi, Gary Frank, Ivan Reis, and others will be keeping the galaxy glowing bright! Featuring: Alan Scott in "Dark Things Cannot Stand the Light" by James Tynion IV and Gary Frank; Hal Jordan in "Last Will" by Geoff Johns, Ivan Reis and Oclair Albert; Sinestro in "The Meaning of Fear" by Cullen Bunn and Doug Mahnke; Green Lantern and Green Arrow in "Time Alone" by Dennis O'Neil and Mike Grell; Kyle Rayner in "Legacy" by Ron Marz and Darryl Banks; Guy Gardner and Kilowog in "Heart of the Corps" by Peter J. Tomasi, Fernando Pasarin and Wade von Grawbadger; John Stewart in "Reverse the Polarity" by Charlotte (Fullerton) McDuffie (a.k.a. Dwayne McDuffie's "McSpouse"), ChrisCross and Jordi Tarragona; Hal Jordan, John Stewart, Guy Gardner and Kyle Rayner in "Four" by Robert Venditti, Rafa Sandoval and Jordi Tarragona; Jessica Cruz in "The Voice" by Mariko Tamaki and Mirka Andolfo; and Simon Baz in "Homegrown Hero" by Sina Grace and Ramon Villalobos. Plus pin-ups: Jo Mullein from Far Sector by Jamal Campbell; Hal Jordan by Bruce Timm; Hal Jordan by Rafael Grampá; Jessica Cruz by Joëlle Jones; Keli Quintela/Teen Lantern from Young Justice by David Lafuente; Tai Pham from Green Lantern: Legacy by Andie Tong; Kyle Rayner by Sarah Stone; and Guy Gardner by Joe Staton.