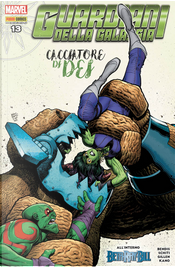 Guardiani della Galassia #45
Cacciatore di dei
by Brian Michael Bendis, Kieron Gillen
Translated by
Giuseppe Guidi
,
Illustrated or Penciled by
Kano
,
Valerio Schiti
,
Artist or Inker
Valerio Schiti
,
Alvaro Lopez
,
Kano
,
Colorist
Javier Rodriguez
,
Richard Isanove
,
Jacket design or artwork by
Arthur Adams
0Reviews0Quotations0Notes
Description
Contiene: Guardians of the Galaxy #9, Beta Ray Bill: Godhunter #1

Gamora e Drax insieme contro un mostro degli alieni Badoon! • Come sono finiti in questo pasticcio i due membri più letali dei Guardiani? • Esplode in tutta la sua potenza la miniserie Beta Ray Bill: Cacciatore di dei! • Bill si mette sulle tracce del Divoratore di pianeti: Galactus!