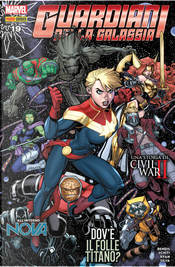 Guardiani della Galassia #51
Dov'è il folle titano?
by Brian Michael Bendis, Sean RyanTranslated by Giuseppe Guidi, Illustrated or Penciled by R.B. Silva, Valerio Schiti, Adapted by Max Brighel, Artist or Inker Adriano Di Benedetto, Valerio Schiti, Colorist Richard Isanove, Andres Mossa, Jacket design or artwork by Arthur Adams, Calligrapher Tatania Bonora
0Reviews0Quotations0Notes
Description
Contiene: Guardians of the Galaxy #11, Nova #8.

Due tie-in di Civil War II, il crossover dell'anno!
• Con chi si schiereranno i Guardiani della Galassia e Nova?
• Nova alle prese con un sacco di supereroi, ma soprattutto con sua madre!
• E nel bel mezzo di Civil War II, Sam ha una bruttissima sorpresa!