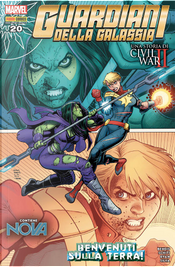 Guardiani della Galassia #52
Benvenuti sulla terra!
by Brian Michael Bendis, Sean RyanTranslated by Giuseppe Guidi, Illustrated or Penciled by R.B. Silva, Valerio Schiti, Adapted by Max Brighel, Artist or Inker Adriano Di Benedetto, Valerio Schiti, Colorist Richard Isanove, Andres Mossa, Jacket design or artwork by Arthur Adams, Calligrapher Tatania Bonora
0Reviews0Quotations0Notes
Description
Contiene: Guardians of the Galaxy #12, Nova #9.

Due tie-in di Civil War II, il colossale crossover!
• Gamora contro Capitan Marvel-- 'nuff said!
• L'ora più tragica dei Guardiani della Galassia!
• Nova prende una decisione molto difficile, e dopo il suo team-up più sorprendente!