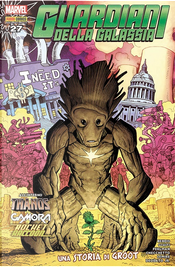 Guardiani della Galassia #59
Una storia di Groot
by Brian Michael Bendis, Jeff Lemire, Matthew Rosenberg, Nicole PerlmanTranslated by Giuseppe Guidi, Illustrated or Penciled by Marco Checchetto, Mike Deodato Jr., Valerio Schiti, Jorge Coelho, Colorist Antonio Fabela, Frank Martin, Richard Isanove, Andres Mossa
0Reviews0Quotations0Notes
Description
Contiene: Gamora #5, Thanos #5, Guardians of the Galaxy #16, Rocket Raccoon #1 (seconda parte).

• Continua Bloccati con i Guardiani di Bendis/Schiti, e sotto i riflettori c'è Groot!
• Si conclude la miniserie Gamora e proseguono le avventure di Thanos!
• Rocket Raccoon bloccato sulla Terra nella sua nuova miniserie!