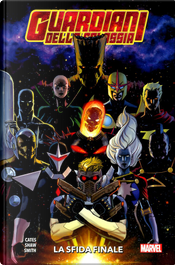 Guardiani della galassia vol. 1
Sfida finale
by Al Ewing, Donny Cates, Lonnie Nadler, Tini Howard, Zac Thompson
Illustrated or Penciled by
Geoff Shawn
,
Ariel Olivetti
,
John McCrea
0Reviews0Quotations0Notes
Description
Contiene: Guardians of the Galaxy (2019) #1/12, Guardians of the Galaxy Annual (2019) #1

L'universo è in fiamme. Centinaia di pianeti sono in guerra. Il cosmo è pieno di odio.
• Per fortuna, Thanos è morto… oppure no?
• In ogni caso, non c'è mai stato così tanto bisogno dei Guardiani della Galassia!
• Un nuovo, travolgente inizio per i più grandi eroi cosmici dal genio di Donny Cates.