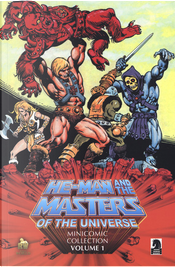 He-Man and the masters of the universe - Minicomic collection vol. 1
by Gary Cohn, Michael Halperin
Translated by
Fiorenzo Delle Rupi
,
Illustrated or Penciled by
Anthony Tollin
,
Mark Texeira
,
Tod Smith
,
Alfredo Alcala
,
Contributions by
Tim Kilpin
,
Giovanni Spadaro
0Reviews0Quotations0Notes
Description
Negli anni Ottanta il fenomeno dei Masters of the Universe invase il mondo. La linea di action figure che nacque dal successo della serie animata presentava in ogni confezione un minicomic che divertiva e aiutava nel gioco i bambini di tutto il mondo. Questa serie di volumi presenta tutti i minicomic dei Masters of the Universe realizzati, con approfondimenti e interviste agli autori originali. In questo volume l'intervista a Mark Texeira. Introduzione di Tim Kilpin.