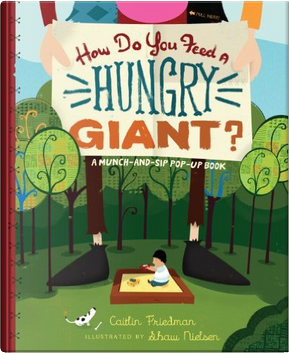 How Do You Feed a Hungry Giant? by Caitlin Friedman, Shaw Nielsen
How Do You Feed a Hungry Giant?
A Munch and Sip Pop-up Book
0
Reviews
0
Quotations
0
Notes
Description
When a boy named Oscar discovers a giant - a very hungry giant holding a sign that says "Food Please" - in his backyard, he knows he can't turn his back on him. Yet it's not easy feeding a hungry giant. A whole pizza disappears in a single gulp. Twelve blueberry muffins, 33 jars of peanut butter, 197 chocolate chip cookies - all just an appetizer. So what is little Oscar to do? Just how do you feed a hungry giant? In this warmly illustrated and interactive picture book, the reader gets to help Oscar feed the giant. But despite Oscar's best efforts - he cleaned out the fridge AND the pantry! - the giant still remains hungry. That's when mum comes to the rescue. She has eight great recipes, including Mega-Pigs in Blanket, Jumbo Fries, The Biggest Burger in the World, Ginormous Blueberry Muffin. Each serves one giant - or eight kids. Yes, the "feed a giant" recipes are included in the book, printed in a separate 8-page mini cookbook, and are ideal for a kid's party.