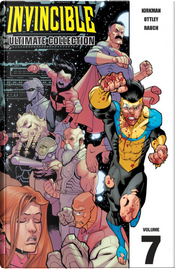 Invincible: Ultimate Collection, Vol. 7
Illustrated or Penciled by
Ryan Ottley
,
Artist or Inker
Cliff Rathburn
,
Colorist
FCO Plascencia
,
John Rauch
,
Nikos Koutsis
0Reviews0Quotations0Notes
Description
Collects Invincible #71-84.

At last! This is the seventh hardcover collection of the greatest superhero comic in the universe! This volume reprints the "Viltrumite War" storyline, as well as the stories showing the ripple effects on Earth resulting from Mark's decisions following that landmark battle.