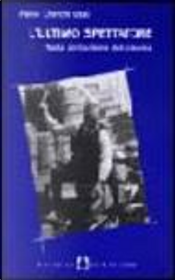 L'ultimo spettatore by Paolo Cherchi Usai
L'ultimo spettatore
Sulla distruzione del cinema
Translated by
R. Gorgani
0Reviews0Quotations0Notes
Description
Nell'epoca del digitale e del DVD milioni di pellicole giacciono in condizioni disperate negli archivi di tutto il mondo. Una quantità ancora più rilevante è andata irrimediabilmente perduta. Qual è allora il senso degli sforzi che si compiono per salvare ogni anno una manciata di film? Fino a dove si spinge la nostra volontà di preservare la memoria e dove invece essa diventa la velleità di rendere eterno ciò che è votato per natura alla distruzione?
Il cinema molto presto scomparirà, sparirà fisicamente e di esso non resterà alle prossime generazioni alcuna traccia. Questa è la tesi sostenuta da Cherchi Usai, tra le massime autorità mondiali sul tema della conservazione e del restauro dei film.
L'autore affronta in questo libro le questioni relative al restauro dei film con lucidità e passione, riflettendo sulle implicazioni estetiche e morali, e discutendo con piglio polemico le molte (false) certezze che hanno spesso sostenuto il lavoro di conservazione.
«Il restauro è un errore necessario», conclude l'autore.
Il libro, pubblicato nel 1999, è stato poi tradotto in inglese con il titolo The Death of Cinema (2001), con una prefazione di Martin Scorsese. Per sette anni le pagine di questo libro hanno dato vita al progetto del primo lungometraggio firmato da Paolo Cherchi Usai: Passio, presentato in prima mondiale nel febbraio 2007 all'Adelaide Film Festival.