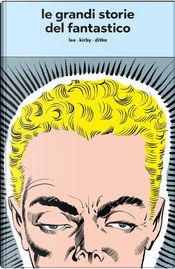 Le grandi storie del fantastico by Jack Kirby, Stan Lee, Steve Ditko
Le grandi storie del fantastico
by Jack Kirby, Stan Lee, Steve Ditko
0Reviews0Quotations0Notes
Description
Storie tratte da Tales To Astonish, dal #31 al #54

Descrizione
• Un nuovo volume con le storie fantasy più belle della Casa delle Idee dai loro più grandi autori!
• Una raccolta esaustiva dell'ultimo periodo di storie di Tales To Astonish, ricolorate e restaurate!
• Bonus speciale: la prima storia della serie dal 1959 ad opera di Stan Lee e Jack Kirby.
• All'interno, vari articoli a tema scritti dal nostro team di editor.