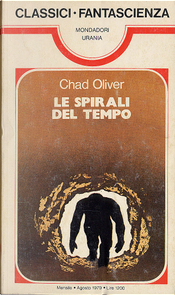 Le spirali del tempo by Chad Oliver
Le spirali del tempo
Urania Classici Fantascienza 29
by Chad Oliver
Translated by
Carlo Rossi Fantonetti
,
Series curated by
Carlo Fruttero
,
Franco Lucentini
,
Jacket design or artwork by
Karel Thole
4Reviews0Quotations0Notes
Description
Tit.Orig.: The Winds of Time, 1957

"A questo punto, di nuovo il rumore. Qualcosa... si apriva. Weston Chase si voltò. Qualcosa... qualcuno... stava uscendo da un foro apertosi in fondo alla caverna: un essere alto, tanto da dover restare piegato in due per non urtare contro la volta. Un essere dalla faccia cadaverica, bianca e molle come la pasta. Un essere con due occhi... L'essere lo vide... Avanzava." La storia che comincia in questo clima di horror, che prosegue in una tesa atmosfera d'angoscia, e che si chiuderà sotto il segno della speranza, è stata una delle grandi tappe della FS americana degli anni '50: una storia profetica ieri, attualissima oggi.