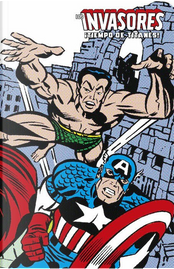 Los Invasores #2
¡Tiempo de Titanes!
by Don Glut, Roger Stern, Roy ThomasIllustrated or Penciled by Steve Epting, Dave Hoover, Don Heck, Frank Robbins, Alan Kupperberg, Chic Stone, Artist or Inker Ian Akin, Bill Black, Rick Hoberg, Frank Springer, Brian Garvey, Ernie Chan, Al Williamson, Colorist Gloria Vasquez, Paul Becton
0Reviews0Quotations0Notes
Description
MARVEL LIMITED EDITION. LOS INVASORES 2.Con The Invaders 29-41, v2, 1-4, Giant-Size 2, Marvel Universe 1-3, What If 4, Captain America 253, 254 y Annual 6 y The Avengers 71.Segundo y último volumen dedicado al supergrupo Marvel que combatió en La II Guerra Mundial. Además del fin de la serie clásica del grupo, incluye sus posteriores apariciones, a cargo de autores legendarios.