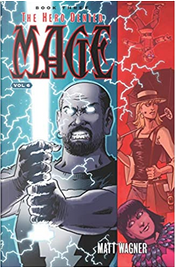 Mage 3: The Hero Denied vol. 6
by Matt Wagner
0Reviews0Quotations0Notes
Description
The last of six volumes collecting MATT WAGNER's
epic, modern-day fantasy trilogy, MAGE-BOOK THREE: THE HERO DENIED is the
long-awaited conclusion to the saga of the reborn Pendragon, Kevin Matchstick.
After his mystical enemies destroy his home and kidnap half his family, Kevin
must return to his heroic path and again draw forth the power of Excalibur. Left
to his own devices and with his magically precocious daughter at his side, the
Pendragon finds himself even more in need of counsel and guidance. Will the
long-prophesied third Mage finally appear at last? Or will the Pendragon's
fear for his family's safety leave the mysterious Fisher King a victim to
the sinister schemes of the Umbra Mother and her Gracklethorns?


MATT WAGNER's classic epic of comics
fantasy was at the vanguard of the independent comics scene and continues to be
an inspiration for many contemporary creators, longtime fans and new readers
alike. Nearing twenty years in the making, this is the first collected edition
of MAGE: THE HERO DENIED, the concluding volume of the celebrated, epic
trilogy.