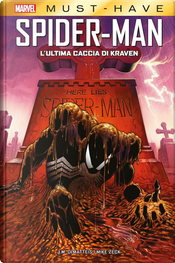 Marvel Must Have vol. 25
Spider-Man: L'ultima caccia di Kraven
by Bob McLeod, Jean Marc DeMatteis, Mike Zeck
Translated by
Pier Paolo Ronchetti
,
Marco Marcello Lupoi
0Reviews0Quotations0Notes
Description
Nel corso della sua carriera, Kraven ha catturato e ucciso prede di ogni tipo. Una sola gli è sempre sfuggita: Spider-Man. Ora il Cacciatore ha capito che per sconfiggere il Ragno deve diventare lui stesso il Ragno… a costo di ucciderlo e di prendere il suo posto. Soltanto una cosa potrà salvare Peter Parker dalla più tragica delle fini: l'amore. Molto semplicemente, una delle storie del Tessiragnatele più importanti e tragiche di sempre. Contiene: "Web of Spider-Man" (1985) #31/32, "Amazing Spider-Man" (1963) #293/294, "Peter Parker, the Spectacular Spider-Man" (1976) #131/132.