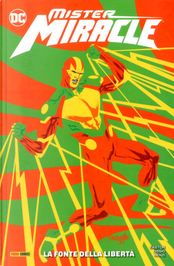 Mister miracle - La fonte della liberta'
Translated by
Sveva Scaramuzzi
,
Illustrated or Penciled by
Fico Ossio
,
Colorist
Rico Renzi
0Reviews0Quotations0Notes
Description
Contiene:
Mister Miracle: The Source of Freedom (2021) #1/6

Un potentissimo nemico proveniente dal futuro reclama il manto di Mr. Miracle!
• Shilo Norman a confronto con il suo passato…
• …e con i suoi predecessori nei panni di Mr. Miracle.
• Un giro a Nuova Genesi aprirà degli scenari sconvolgenti per Shilo!