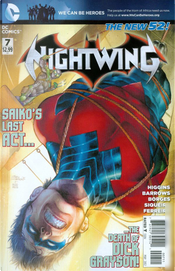 Nightwing Vol.3 #7 by Kyle Higgins
Nightwing Vol.3 #7
Turning Points
by Kyle Higgins
Illustrated or Penciled by
Eddy Barrows
,
Geraldo Borges
,
Artist or Inker
Paulo Siqueira
,
Eber Ferreira
,
Colorist
Rodrigo Reis
,
Jacket design or artwork by
Eddy Barrows
0Reviews0Quotations0Notes
Description
Nightwing vs. Saiko! The truth about Haly's Circus! A tribute show for the Flying Graysons! They're all in this amazing issue! Of course, there's no way they could be related...right? Plus: As the answers regarding Haly's Circus are revealed, what do they mean for Dick Grayson's future in Gotham City? And more important, his future as Nightwing? Be here to find out!