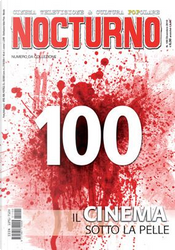 Nocturno cinema n. 100
ll cinema sotto la pelle + dossier 100
by Alan D. Altieri, Aldo Lado, Alice Cucchetti, Corrado Farina, Davide Pulici, Evangelisti Valerio, Fernando Di Leo, Francesco Barilli, Franco Trentalance, Gaetano Calabrò, Gianluigi Perrone, Giona A. Nazzaro, Lamberto Bava, Manlio Gomarasca, Marco Cacioppo, Mauro Gervasini, Michele Giordano, Ruggero Deodato, Simone Emiliani, Tinto Brass, Umberto Lenzi
0Reviews0Quotations0Notes
Description
Sommario:

In questo numero ANTEPRIMA: INSIDIOUS/ SUPER – INTERVISTE: James Wan/ James Gun – PERCORSI: Giovani vampiri – DOSSIER: Nocturno 100.

CINEFEAR
Quel selvaggio di Babbo Natale: Rare Export – A Christmas Tale
Fresh Blood: Isopod

CINESCI-FI
Appuntamenti nocturniani: Al festival più bello del mondo
Il premio Nocturno Nuove Visioni: Rammbock di Marvin Kren

CINECOMIX
L'universo Dead Space: L'asso pigliatutto dei videogiochi

CINESEX
Yoyochu in the land of rising sex: Il Santo Graal dell'orgasmo cosmico
Lesborama: Habitación en Roma
La scena hot: Red white & blue
Il nudo: Naomi Watts
Il culo è lo specchio dell'anima: Lindsay Maxwell

VISIONI NOCTURNE
Insidious – Intervista a James Wan
Super – Intervista a James Gun

PERCORSI
Gocce di sangue:
Let me In
We are the Night
Prowl
Stake Land
True Blood
The Walking Dead


Dossier pag. 35
Sommario:

Eccoci qua, belli come il sole, a festeggiare insieme a voi, lettori cari, il traguardo. Cento numeri, otto anni dal 2002, quando ha preso il via la terza serie; e prima ancora altri otto anni e 24 numeri. Nocturno evolve, ma il minimo denominatore comune rimane sempre lo stesso: raccontare film e personaggi che gli "altri" ignorano. E quando non li ignorano più, è solo perché ci siamo passati noi. È la nostra forza: ci svegliamo sempre mezz'ora prima del nostro destino. Siamo diventati persino un aggettivo, "nocturniano", che definisce istantaneamente un cinema, un mondo, una filosofia. Il dato di fatto è che Nocturno è l'unica rivista che in Italia (ma anche "al mondo") racconta il cinema del presente e del passato con una formula unica, mescolando generi e autori anche molto distanti e unendoli con un particolare, ideale, fil rouge.
Il filo rosso dello spettatore che non si accontenta, reclama un gusto proprio, libero da censure e pregiudizi. viviamo nell'era di internet dove tutto è a portata di click e nocturno diventa un necessario strumento anche per orientarsi nell'offerta infinita.
Per celebrare il numero 100 si è deciso di tornare alle origini, a quel che succedeva prima della terza serie. La storia prima della storia. ci siamo divertiti a immaginare cosa sarebbe venuto fuori se avessimo scelto cento personaggi intervistati tra il 1994 e il 2002 (prima e seconda serie di nocturno) e avessimo messo insieme una piccola avventurosa storia del cinema bis. Sorpresa: il 99% di quello di cui si continua a dibattere sulle fanzine, nei forum (anzi nel forum, il nostro, primo e irripetibile della specie), nelle trasmissioni televisive di genere, l'avevamo messo nero su bianco lustri fa. Nocturno: parole e fatti. e poi abbiamo pensato a una chicca, un cadeau speciale: Dario Argento che intervista Carpenter e Romero: grande cimelio di anni felici: noi c'eravamo e registravamo.

Buona lettura. E grazie...