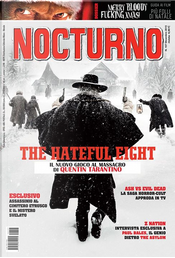 Nocturno cinema n. 157 by Corrado Farina, Davide Pulici, Francesco Barilli, Lorenza Negri, Manlio Gomarasca, Marcello Aguidara, Marco Cacioppo, Michele Giordano, Sara Sagrati, Wolfango Soldati
Nocturno cinema n. 157
The Hateful Eight + dossier Merry Bloody Fucking Xmas!
by Corrado Farina, Davide Pulici, Francesco Barilli, Lorenza Negri, Manlio Gomarasca, Marcello Aguidara, Marco Cacioppo, Michele Giordano, Sara Sagrati, Wolfango Soldati
0Reviews0Quotations0Notes
Description
Sommario : The hateful eight (il nuovo gioco al massacro di Quentin Tarantino), Dossier Merry bloody fucking Xmas! Guida ai film più folli di Natale, Esclusivo : Assassinio al cimitero etrusco e il mistero svelato, Ash vs Evil dead (la saga horror-cult approda in tv), Z nation (intervista esclusiva a Paul Bales, il genio dietro The Asylum), Visioni entertainment (Home video dvd)...