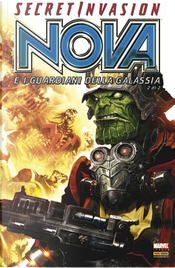 Nova e I Guardiani della Galassia n. 2 (di 2) by Andy Lanning, Dan Abnett
Nova e I Guardiani della Galassia n. 2 (di 2)
Marvel Crossover n. 56 - Secret Invasion
Translated by
Giuseppe Guidi
,
Illustrated or Penciled by
Wellinton Alves
,
Paul Pelletier
,
Geraldo Borges
,
Artist or Inker
Rick Magyar
,
Scott Hanna
,
Colorist
Guru eFX
,
Nathan Fairbairn
,
Jacket design or artwork by
Clint Langley
1Review0Quotations0Notes
Description
Contiene: Nova Vol.4 #17-18, Guardians of the Galaxy Vol.2 #3-6

Altre sei storie cosmiche legate a Secret Invasion e stavolta ben quattro sono dei Guardiani della Galassia di Abnett, Lanning & Pelletier. Mentre il Razzo Umano affronta l'originale (e infido) Super-Skrull, Star-Lord & Co. ricevono un altro ospite inatteso e cominciano a poter nuovamente contare sull'arboreo Groot! E avete già capito chi è lo Skrull infiltrato nei Guardiani? Drax il Distruttore pensa che siano tutti Skrull!