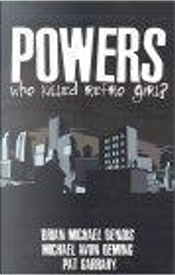 Powers by Brian Michael Bendis, Michael Avon Oeming, Pat Garrahy
Powers
Who Killed Retro Girl?
by Brian Michael Bendis, Michael Avon Oeming, Pat Garrahy
1Review0Quotations0Notes
Description
Heroes glide through the sky on lightning bolts and fire. Flamboyant villains attempt daring daylight robberies. God-like alien creatures clash in epic battle over the night-time sky. And on the dirty city streets below, homicide detective Christian Walker does his job. He has to investigate the shocking murder of one of the world`s most popular superheroes, Retro Girl. Walker has teamed up with spunky rookie, Deena Pilgrim, as the murder investigation takes them from the seediest underbelly the city has to offer to the gleaming towers that are home to immortal beings. As hidden truths about Retro Girl come to light, Walker finds that to solve this crime, he may have to reveal a dark secret.