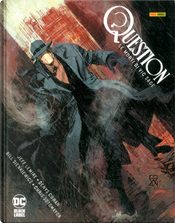 Question
Le morti di Vic Sage
by Jeff Lemire
Translated by
Andrea Toscani
,
Illustrated or Penciled by
Denys Cowan
,
Artist or Inker
Bill Sienkiewicz
,
Colorist
Chris Sotomayor
0Reviews0Quotations0Notes
Description
C'è una maschera che Vic Sage ha indossato per anni allo scopo di ripulire le strade di Hub City: è quella di Question. Le sue certezze su ciò che sia giusto o sbagliato, però, stanno per vacillare. Il dubbio s'insinua nella sua mente e apre le porte alla sua fine o... a un nuovo inizio? In un unico volume, la miniserie realizzata da Jeff Lemire e Denys Cowan. Contiene: The Question: The Deaths of Vic Sage (2019) #1/4 (2022) #1/3.