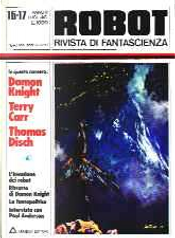 Robot 16-17 by Bob Shaw, Damon Knight, Dean Koontz, Lester del Rey, Terry Carr, Thomas M. Disch, Virginio Marafante, Walter Scotellaro
Robot 16-17
Rivista di Fantascienza - Luglio/Agosto 1977
by Bob Shaw, Damon Knight, Dean Koontz, Lester del Rey, Terry Carr, Thomas M. Disch, Virginio Marafante, Walter Scotellaro
0Reviews0Quotations0Notes
Description
Ad ali spiegate un uomo cerca di superare la più alta montagna dell'universo: è in gara con se stesso, con Dio o semplicemente con I venti di Starmont (The Winds at Starmont)? Ce ne parla Terry Carr in una dolce, struggente novelette.

Damon Knight, ospite d'onore di questo numero, racconta la storia di Mary (Mary), che ha commesso l'orrido peccato d'innamorarsi d'un solo uomo: che ve ne sembra di Elena di Tung (Helen O' Loy), di Lester Del Rey, robot dotato di eccessiva femminilità? E la Marcia di Thomas Disch, adorata dagli Scarafaggi (The Roaches), v'ispira pietà o repulsione?

Passiamo sul macabro. Bruciare papà è quanto mai disdicevole, ma i terribili ragazzini di Noi tre (We Three), di Dean Koontz, fanno anche di peggio. Non sono migliori, d'altronde, gli assassini di Bob Shaw; non per nulla il suo racconto s'intitola Ballata dei rubacorpi (Waltz of the Bodysnatchers).

Di italiani questa volta ve ne proponiamo due: Virginio Marafante col suo Profumo di fragole, che è tutto un inno alla bontà; e Walter Scotellaro con Venditore di sogni, che ci porta nell'acida realtà di un incubo psichedelico.