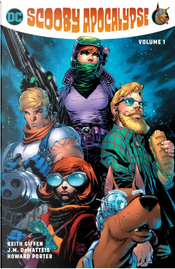 Scooby Apocalypse Vol. 1 by J.M. DeMatteis, Keith Giffen
Scooby Apocalypse Vol. 1
by J.M. DeMatteis, Keith Giffen
Illustrated or Penciled by
Scott Hanna
,
Howard Porter
,
Wellinton Alves
,
Dale Eaglesham
,
Calligrapher
Travis Lanham
,
Nick Napolitano
1Review0Quotations0Notes
Description
Fred. Daphne. Velma. Shaggy. Scooby-Doo. Roaming the globe in their lime-green Mystery Machine, they've solved countless crimes and debunked dozens of sketchy supernatural shenanigans.

But what if the horror was real?

Something terrible has transformed our world, turning millions of people into mindless zombie hordes. And only five people—well, four people and one mangy mutt—have the smarts, the skills and the sheer crazy courage to stare down doomsday.

Can these pesky kids and their canine companion—using every incredible contraption in their arsenal—defeat the evil that has overwhelmed planet Earth? We've got only one thing to say about that: ZOINKS!