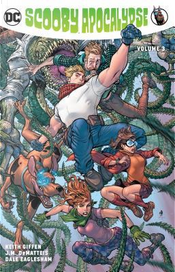 Scooby Apocalypse Vol. 3
by J.M. DeMattis, Keith GiffenIllustrated or Penciled by Jan Duursema, Howard Porter, Dan Green, Andy Owens, Ron Wagner, Tom Mandrake, Tom Derenick, Rick Leonardi, Sean Parsons, Dale Eaglesham, Ben Caldwell, Colorist Jeremy Lawson, Calligrapher Travis Lanham
1Review0Quotations0Notes
Description
You've never seen the Mystery Inc. gang like this before, as Fred, Velma, Daphne, Shaggy and Scooby-Doo seek answers to the mystery plague that turned the world into a monster-strewn wasteland!

But now something strange has happened to the marauding monsters--they're suddenly all single-mindedly heading in one direction, almost like they're under a spell! If someone has figured out a way to control the monsters, then finding out how could be the first step to figuring out how to save the world. So Velma, Scooby and the gang are heading off in the direction of thousands of monsters...much to Shaggy's chagrin.

But Scoob isn't the only one tracking the parade of monsters. Scrappy-Doo and his vicious pack of Smart-Dogs are hot on the trail, too, and he's determined to follow it straight to Velma. Can the world's smartest woman survive an encounter with the world's most dangerous dog? Or will the apocalypse finally claim the Mystery Inc. gang?