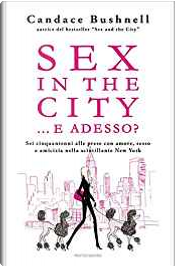 Sex in the City...e adesso? by Candace Bushnell
Sex in the City...e adesso?
Translated by
Sara Crimi
,
Laura Tasso
2Reviews0Quotations0Notes
Description
In questa nuova opera, Candace Bushnell regala ai lettori un'arguta e divertente analisi della vita delle donne intorno ai cinquant'anni quando si ritrovano non più giovanissime, libere e single. Parlando di MILF, cougar, amore, sesso e divorzio, l'onesto e spassoso racconto in prima persona della Bushnell mette a nudo la verità che si nasconde dietro il romanticismo della mezza età. In "Sex in the City... e adesso?", ambientato tra l'Upper East Side di Manhattan e un'elitaria enclave negli Hamptons conosciuta come The Village, l'autrice racconta, attraverso una riflessione profonda ma espressa con tono leggero e intrattenente, l'amore e le abitudini degli uomini e delle donne di mezza età mentre continuano a navigare nel mondo sempre più moderno delle relazioni di coppia. La Bushnell guarda all'amore e alla vita da tutti i punti di vista, matrimonio, figli e divorzio, analizzando anche le reali e numerose pressioni che le donne di oggi subiscono per mantenere la giovinezza a ogni costo e cercare di avere tutto.