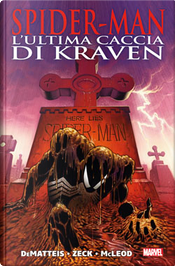 Spider-Man: L'ultima caccia di Kraven
by Bob McLeod, Jean Marc DeMatteis, Mike Zeck
Translated by
Pier Paolo Ronchetti
,
Marco Marcello Lupoi
1Review0Quotations0Notes
Description
Kraven il Cacciatore ha inseguito e ucciso ogni animale noto all'uomo, ma c'è una bestia che gli è sempre sfuggita, una preda che lo ha sbeffeggiato a ogni occasione: il Tessiragnatele noto come l'Uomo Ragno. E per dimostrare di essere superiore all'eroe, ne indosserà il costume e diventerà Spider-Man ... dopo avergli sparato e averlo seppellito due metri sotto terra! Il volume contiene: Web of Spider-Man (vol. 1) 31-32, Amazing Spider-Man (vol. 1) 293-294, Spectacular Spider-Mom 131-132 e la graphic novel Spider-Man: Soul of the Hunter.