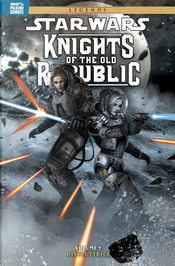 Star Wars: Knights of the Old Republic, Vol. 7
Distruttrice
Translated by
Luigi Mutti
,
Illustrated or Penciled by
Brian Ching
,
Bong Dazo
,
Ron Chan
,
Colorist
Michael Atiyeh
0Reviews0Quotations0Notes
Description
Contiene: Star Wars: Knights of the Old Republic #42/46. L'ex Padawan Zayne Carrick deve rischiare la vita e la sua sanità mentale per aiutare la sua amica Jarael ad affrontare il suo torbido passato. E le conseguenze, saranno fatali, per tutta la galassia. In più un capitolo sul passato di Malak e Revan i protagonisti del videogioco di Knights of the Old Republic!