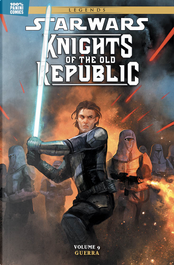 Star Wars: Knights of the Old Republic Vol. 9
Guerra
Translated by
Luigi Mutti
,
Illustrated or Penciled by
Andrea Mutti
,
Artist or Inker
Pierluigi Baldassini
,
Colorist
Michael Atiyeh
0Reviews0Quotations0Notes
Description
Contiene: Star Wars: Knights of the Old Republic - War #1/5. L'incredibile conclusione di una delle più amate saghe di Star Wars! La Repubblica e i Mandaloriani sono in guerra e sebbene il Consiglio Jedi abbia perorato la neutralità, alcuni Cavalieri stanno seguendo Revan in prima linea. Zayne Carrick e i suoi compagni si troveranno coinvolto involontariamente in un conflitto brutale.