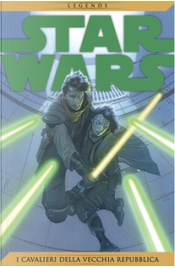 Star Wars Legends #44
I cavalieri della vecchia Repubblica
Illustrated or Penciled by
Travel Foreman
,
Brian Ching
,
Colorist
Michael Atiyeh
0Reviews0Quotations0Notes
Description
Contiene: Star Wars: Knights of the Old Republic #0-6.

Migliaia di anni prima che Luke Skywalker distruggesse la Morte Nera, il Padawan Zayne Carrick è braccato dai suoi stessi Maestri Jedi. Accusato ingiustamente di aver ucciso i suoi compagni, Zayne deve sopravvivere e riabilitare il suo nome.