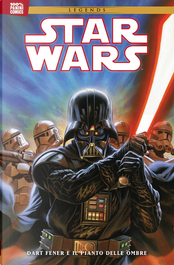 Star Wars Legends: Dart Fener e il pianto delle ombre
by Tim Siedell
Translated by
Giovanni Agozzino
,
Illustrated or Penciled by
Gabriel Guzman
,
Colorist
Michael Atiyeh
0Reviews0Quotations0Notes
Description
Contiene: Darth Vader and the Cry of Shadows #1-5. Durante le Guerre dei Cloni, uno dei soldati dell'armata della Repubblica – dato per morto – viene abbandonato durante la battaglia. Il soldato clone però sopravvive e inizia a covare un rancore bruciante per i Generali Jedi che l'avevano abbandonato. Anni dopo, questo odio lo porta a rintracciare un grande guerriero, il leader che avrebbe dovuto seguire fin dal principio… Dart Fener!