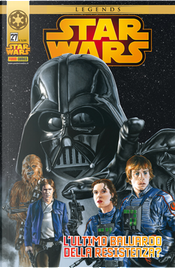 Star Wars vol. 27
L'ultimo baluardo della resistenza?
by Brian Wood, Russ Manning, Tim Siedell
Illustrated or Penciled by
Carlos D'Anda
,
Brian Snoddy
,
Stephen Thompson
,
Rick Hoberg
,
Ryan Kelly
,
Russ Manning
,
Artist or Inker
Mark Irwin
,
Colorist
Ray Murtaugh
,
Gabe Eltaeb
,
Michael Atiyeh
,
Jacket design or artwork by
Rodolfo Migliari
0Reviews0Quotations0Notes
Description
Contiene: Star Wars #6-7, Darth Vader and the Ninth Assassin #1, The Early Adventures #6.
Ian e Chewbecca messi all'angolo dagli imperiali! La Principessa Leila e Wedge Antilles affrontano la morte mentre Luke Skywalker è costretto a improvvisare. E tutto sotto l'occhio malevolo di Dart Fener! E una nuova avventura ha come protagonista l'Oscuro Signore dei Sith: dopo aver eliminato otto assassini incaricati di ucciderlo, affronterà il nono che si rivelerà più coriaceo del previsto!