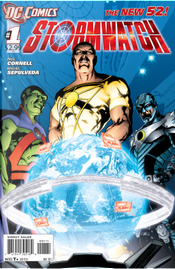 Stormwatch Vol.3 #1
The Dark Side, Part 1
by Paul Cornell
Illustrated or Penciled by
Miguel Sepulveda
,
Artist or Inker
Al Barrionuevo
,
Colorist
Allen Passalaqua
,
Jacket design or artwork by
Chris Burnham
0Reviews0Quotations0Notes
Description
They are Stormwatch, a dangerous super human police force whose existence is kept secret from the world Directly following the ominous events of SUPERMAN #1, Adam One leads half the Stormwatch team to recover the [INFORMATION REDACTED] from deep in the Himalayas. Meanwhile, Jack Hawksmoor and the rest of the Stormwatch crew look to recruit two of the deadliest super humans on the planet: Midnighter and Apollo! And if they say no? Perhaps the Martian Manhunter can change their minds...