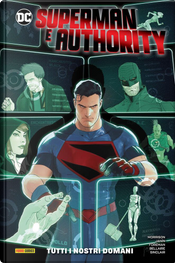 Superman e Authority
Tutti i nostri domani
by Grant MorrisonTranslated by Andrea Toscani, Illustrated or Penciled by Travel Foreman, Mikel Janin, Fico Ossio, Evan Cagle, Compiled by Lucia Truccone, Adapted by Antonio Solinas, Colorist Jordie Bellaire, Alex Sinclair
1Review0Quotations0Notes
Description
Contiene:
Superman and the Authority (2021) #1/4

L'ultima, entusiasmante opera DC di Grant Morrison!
• A volte anche Superman si trova nella posizione di dover chiedere aiuto… e alcune imprese richiedono figure che non siano affiliate alla Justice League!
• Clark Kent cerca la collaborazione di Manchester Black, il più ignobile dei cattivi, per formare una nuovissima Authority da inviare in missione segreta!
• E se in questa impresa Superman riuscirà a redimere Black, allora dimostrerà che davvero chiunque può essere un eroe!