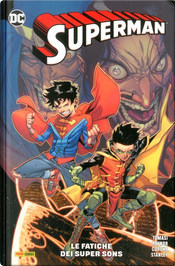 Superman - Le fatiche dei super sons by Peter J. Tomasi
Superman - Le fatiche dei super sons
Translated by
Giuseppe Buttiglione
,
Illustrated or Penciled by
Jorge Corona
,
Max Raynor
,
Evan Stanley
,
Colorist
Luis Guerrero
0Reviews0Quotations0Notes
Description
Contiene:
Challenge of the Super Sons (2020) #1/13

Un'avventura completa per Superboy e Robin!
• Non è facile essere i figli adolescenti di Superman e Batman, ma Jon e Damian vogliono dimostrare di avere la stoffa degli eroi!
• Quando una donna misteriosa appare loro con un presagio di sventura, comincia una battaglia per fermare il male!
• Una storia completa architettata dal creatore dei "super figli", Peter J. Tomasi!