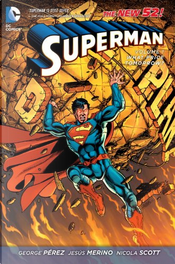 Superman, Vol. 1
What Price Tomorrow?
by Dan Jurgens, George Perez, Keith GiffenIllustrated or Penciled by Jesús Merino, Nicola Scott, Artist or Inker Trevor Scott, Colorist Brian Buccellato, Brett Smith, Blond, Richard Horie, Tanya Horie
0Reviews0Quotations0Notes
Description
Collects Superman #1-6.

Metropolis fears him. The Daily Planet agrees. This new volume of Superman finds our hero with a startling new status quo. As Superman finds ways to dodge the scrutiny placed upon him by the public and media, he must stop a monstrous threat to Metropolis - one that he somehow is the cause of! The next chapter in the legendary history of the Man of Steel is built here!