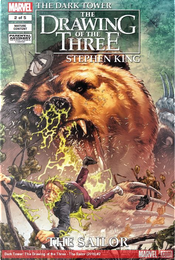 The Dark Tower: The Sailor n.2
The Drawing of the Three
Illustrated or Penciled by
Juanan Ramirez
,
Created by
Stephen King
,
Colorist
Jesus Aburtov
,
Jacket design or artwork by
Jay Anacleto
0Reviews0Quotations0Notes
Description
Jake's reality-shattering visions are occurring with maddening frequency…and what they foretell will have dire consequences for Roland and the ka-tet! And then there are the strange voices reverberating through Jake's head. Can it be that this star-crossed youngster is actually…dead?! Meanwhile, Eddie, Roland and Susannah contend with an attack by Shardik — a 70-foot-tall bear whose mysterious origin runs to the heart of Mid-World itself!