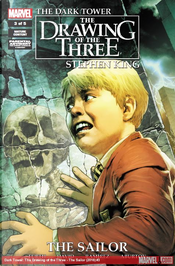 The Dark Tower: The Sailor n.3
The Drawing of the Three
Illustrated or Penciled by
Juanan Ramirez
,
Created by
Stephen King
,
Colorist
Jesus Aburtov
,
Federico Blee
,
Jacket design or artwork by
Jay Anacleto
0Reviews0Quotations0Notes
Description
The Gunslinger is the truth. The Lady of Shadows is the truth. The Prisoner is the truth. So where does Jake Chambers fit, and what do his visions mean? What are we talking about?