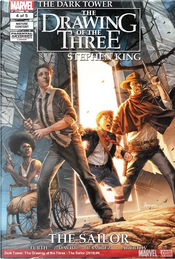 The Dark Tower: The Sailor n.4
The Drawing of the Three
Illustrated or Penciled by
Cory Hamscher
,
Juanan Ramirez
,
Created by
Stephen King
,
Colorist
Jesus Aburtov
,
Jacket design or artwork by
Jay Anacleto
0Reviews0Quotations0Notes
Description
A collection of mini cyborgs means big trouble for the Ka-tet! As JAKE'S reality begins to bleed with that of Mid-World, Roland and the Ka-tet's destiny takes a startling new direction! The penultimate issue of The Sailor leads us irrevocably into the most stunning climax in Mid-World's history!