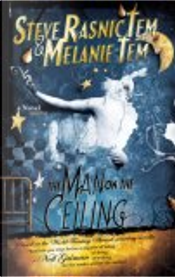 The Man on the Ceiling
(Discoveries)
by Melanie Tem, Steve Rasnic Tem
0Reviews0Quotations0Notes
Description
Two interwoven memoirs of love, loss, and family with a haunted, frightening edge.

In 2000, American Fantasy Press published an unassuming chapbook titled The Man on the Ceiling. Inside was a dark, surreal, discomfiting story of the horrors that can befall a family. It was so powerful that it won the Bram Stoker Award, International Horror Guild Award, and World Fantasy Award--the only work ever to win all three. Now, Melanie Tem and Steve Rasnic Tem have re-imagined the story, expanding on the ideas to create a compelling work that examines how people find a family, how they hold a family together despite incomprehensible tragedy, and how, in the end, they find love.

Loosely autobiographical, The Man on the Ceiling has the feel of a family portrait painted by Salvador Dali, where story and reality blend to find the one thing that neither can offer alone: truth.