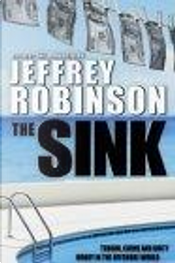 The Sink
0Reviews0Quotations0Notes
Description
The paradise islands of the Caribbean hide some ugly secrets — and some very dirty financial dealings

Following in the footsteps of two previous international bestsellers – The Laundrymen and The Merger – Jeffrey Robinson brings the story of dirty money full circle, back to the Caribbean islands where the business of crime does its banking.

In tracking the route it takes, Robinson shows how dirty money – for the most part, the proceeds of fraud and drugs – drives much of the world's economy, how a few people have tried to do something about it, and how an unlikely cabal of powerful forces – politicians, government agents, major corporations, criminals, and terrorists – are intent on maintaining the status quo. He also exposes Canada's central role in this underground economy. Not only has Canada been host to several huge investment frauds, but it is particularly Canadian banking interests in the Caribbean that offer the services money launderers need to clean the proceeds of their crimes.

Robinson lifts the lid on the lawyers, bankers, accountants, company formation agents, CEOs, and despots who have created – and who actively sustain – a world of window-dressing regulations where criminals and corporate giants live side by side, and by the same rules, beyond the reach of governments and the law.